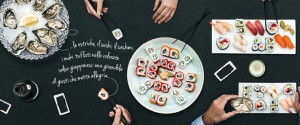 My first Asian cuisine childhood memories are of Vietnamese cuisine, somewhere in the 80s back in the 20th century. Then in Bulgaria along came the Chinese cuisine and Chinese restaurants. Later as a part of the Asian cuisine inevitably came also the Japanese cuisine.
The Japanese culture, eating with chopsticks and Japanese cuisine entered in the everyday life and eating out habits of the people. Eating culture has change. To order sushi in a restaurant or place an order for sushi food delivery is quite normal nowadays. For the last 10 years when Japanese cuisine took its place not only in the food and dining out establishments, restaurants in Burgas, but also in the hypermarket chains as ingredients for home Asian cuisine cooking.
Sushi is no longer synonymous with raw fish and seaweed. We are now able to make the difference between maki and temaki.  We know where to buy  Nuri and what wasabi sauce means.
Sushi bars and sushi restaurants in Burgas, Varna , Plovdiv, Sofia and other towns  in Bulgaria, offer from traditional types of sushi to fine Asian cuisine and Japanese food prepared with passion, patience and careful combination of unique flavors.
Increasingly, sushi restaurants create Asian cuisine inspired by Kaiseki, Zen , traditional Japanese cuisine and Western influences and experiment – all in the name of healthy and quality food.
The freshest seafood and fish, cut under the laws of Kaiseki becomes sashimi, ongini, temaki.
Crunchy tempura delight envelops the senses; vegetables transformed into sweet tayaki; vegetables and meat wrapped in delicate Japanese frying pasta…
Japanese cuisine is designed to overflow tastes in all senses and leave you with the feeling of purified elegance, lightness, delicate harmony of East Asian breeze.
Many of us have mastered the non professional skills of making sushi at home. Following strictly or modifying recipes, it is important to respect the balance and the fine taste.
We personally leave the taste to flow from the hands of the professionals in our favourite sushi restaurants in Burgas, Varna and Sofia.
Here are some of the best Asian restaurants, specializing in the traditions of Japanese cuisine:
ZEN asian cuisine, sushi & bar Burgas
Happy Bar & Grill Sushi Burgas
/photo by eatstore.it/