Making a reservation for a restaurant table – do I need to?
Surely you, like most people have had the unpleasant and annoying experience with confusion and misunderstanding, by lodging in a restaurant.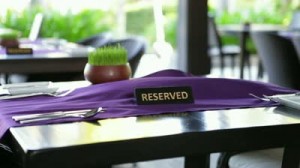 The most common scenario is the following:
* First, you start with a search of contact details of the restaurant – phone and address of restaurant, bar, pizzeria, which you'd like to visit. Today, though internet has become an indispensable part of our lives, not all restaurants have their own websites. However, there is always Google. And once entered the name of the desired restaurant in Burgas, Bar in Burgas, pizzeria in Varna, you probably reached one of the most complete and probably the most correct online guide to the world of restaurants in several cities of Bulgaria – provereno.bg. Naturally, there are other catalogs, websites that we offer more or less complete information and contact details. And it's true that there's Facebook too.
You were probably able to find through any of the above methods your favorite restaurant or bar's phone number. It took you few minutes, right?
* You give the chosen restaurant a call.  Most often someone answers. Unfortunately, sometimes, especially in the busiest restaurants such as Shtastlivetsa Restaurant in Veliko Tarnovo is not always easy for the staff to answer in time. But let's say you have reached the manager. And there the conversation starts. They ask you for details:  when for you'd like to book a table, for how many people, at time you will arrive, under which name should the restaurant table reservation should be made, a telephone number… Details. The conversation is usually short. There's often a noisy background. But you hope that everything is noticed accurately and correctly.
* The day comes and you are heading to the restaurant or bar, where it turns out that they expect you tomorrow.  Or the arriving time is not correct. But how is that possible? Did you confirm the information? Yes, you did.. But the restaurant manager probably got it wrong.
And shifting tables starts.  Yes, one way or another they will manage to find you and your guests some place, but does it have to be this way?
Of course, this is the worst scenario. There is another one funnier. You've spent some time looking for the restaurant contact information, phone, address of restaurant, bar, pizzeria, pastry shop, club in Burgas, Varna, Plovdiv. You give them a phone call; make a reservation for a table. And when the day of the reservation comes, you go and it turns out that the restaurant is empty. Can you be sure that if the next time you skip calling and booking a restaurant table, the situation will be the same? There will be vacancies? Or that you'll be able to find place in the bar for the live show concert of your favorite band.
And how much more convenient it would be if there was a system for precise and flawless transmission of all the information, online booking for restaurant, bar, club. Either way you spend long enough time on the internet. Why calling the restaurant when it can be even easier.
Congratulations. Online restaurant booking systems exist for more than10 years now.
More about online restaurant booking, bar, club, pizzeria booking; online restaurant table reservation, online Booking a table in a bar you can get here.